AgeLess IV Infusion Bar™
Minerals and Nutrients are vital to the peak performance of our bodies.
However due to various factors - sometimes the levels become deficient – it is remarkable how this can cause our body to react. For example, did you know that low hydration can lead to headaches?
IV drips are the fastest way to introduce nutrients into your body! The intravenous method bypasses the stomach and thereby the time that it takes to get to the parts of your body that needs it the most, directly through your bloodstream with a 100% absorption rate
Choose from the below range of IV drips, rich in vitamins and antioxidants that work from within.
If you need any assistance selecting one that is right for you, please do not hesitate to speak to one of our Doctors who would be happy to help.
AgeLess Red Carpet Boost™: Glow like a star
An important event coming up and you want to glow like a star? (Or for that matter, any day is a good day to glow😊). We have you covered. AgeLess Red Carpet Boost™ is the perfect recipe for glowing, radiant skin - stand out in the crowd and make people's head turn. This is our ultimate blend of vitamins, antioxidants and minerals which work together to make you glow like the star you are.
Key points :
Contains high dose of Vitamin C & B Complex
Boosts energy levels
High dose of glutathione
Promotes glowing skin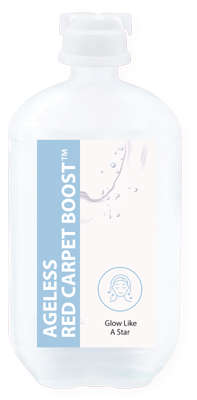 AgeLess HairBoost™: Regain Hair Health
'Hair' we are with the ultimate hair boost drip. This mixture of Vitamins, minerals and everything nice boost hair growth and maintains general hair wellness. Be the talk of the party with every flick of your hair.
Key points :
Promotes new hair cells
Helps reduce hairfall
Promotes healthy hair, skin & nails
Packed with vitamins & minerals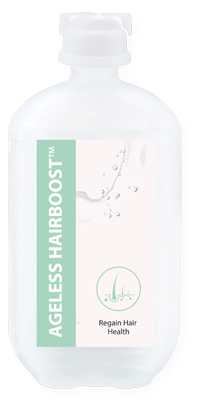 AgeLess GlowBoost™: Everyone can do with a bit more glow
Illuminating glowing skin is something we all want! Treatments and homecare products are great but adding drips to your 'glow-on' arsenal is something of a must-do. Our AgeLess GlowBoost™ is a powerful mix of antioxidants along with essential minerals & vitamins that give your skin an instant boost for that otherworldly glow.
Key points :
Glutathione
Contains vitamin C
Boosts energy levels
Promotes glowing skin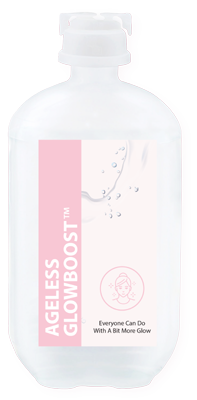 AgeLess Instant Hangover Remedy™: Recover the quick smart way
Drip your hangovers away! We all sometimes have experienced this havoc called a hangover. Alcohol, as a diuretic, is known to deplete levels of certain nutrients as well as water in the body. This means that some of the symptoms you feel from a hangover may actually be due in part to a vitamin deficiency and lack of hydration at a cellular level. Our AgeLess Instant Hangover Remedy™ to the rescue – intravenous hydration, vitamins, and minerals to get back you're A-Game quickly.
Key points :
Nearly instant hydration
Boosts energy
Dose of Multivitamins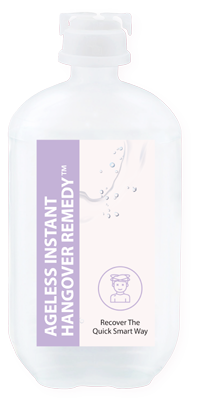 AgeLess SlimBoost™: Aids fat loss
Who wouldn't like a boost to their fat-loss plan? We work out, eat right and do everything we can to stay fit. So what does AgeLess SlimBoost™ do? AgeLess SlimBoost™ has essential nutrients and minerals your body needs to help increase your energy and boost your metabolism to help you perform tasks at your optimum level & focus better. It helps to supercharge your system & increase its ability to burn fat faster and delivers an extra dose of energy to your body!
Key points :
Helps speed up the metabolism of fat
Helps improve concentration and memory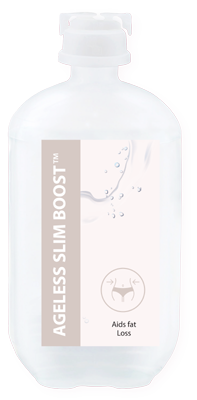 AgeLess Myer's Cocktail™: A cult classic for good reason
John Myer invented the Myer's cocktail. It is an age-old nutritional drip that helps in rejuvenating and restoring your body, mind, and skin! It is one of the most popular infusions and has a wide range of health benefits. AgeLess Myers' Cocktail is a mix of essential vitamins, minerals, and antioxidants that helps detoxify skin, slow down aging, reverse oxidative damage, and helps your body produce more glutathione for brighter even-toned skin & help deliver glowing fresher skin.
Key points :
High dose of glutathione
High dose of vitamin C
Helps cleanse vital organs
Promotes glowing skin
Promotes anti-aging
Strengthens immunity
Boosts energy levels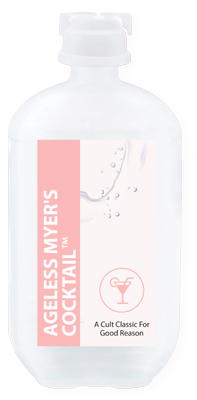 AgeLess ImmunoBoost™: Speedy pick-me-up
With our fast-paced lives, most of us tend to have average to bad immunity. In the covid era we have all spent time isolating and wearing masks – now that they are coming off all our immunities are not what they used to be. AgeLess ImmunoBoost™ has been formulated to help improve your immunity but also help improve your energy and vitality, especially if you're recovering from flu-like symptoms or allergies.
Key points :
High dose of vitamin C
Packed with vitamins
Aids recovery from cold and flu symptomsn
Strengthens immunity
Boosts energy levels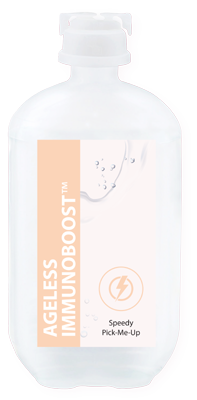 AgeLess AthleticBoost™: Energise your muscles
Sore, no more!
Training hard? Then you know that muscles can get sore, cramped, and tired. Recovery takes time. AgeLess AthleticBoost™ has been designed to speed up muscle recovery – so you can get back to training faster – six-pack here we come!
Key points :
Contains vitamin C
High dose of glutathione
Aids muscle recovery
Boosts energy levels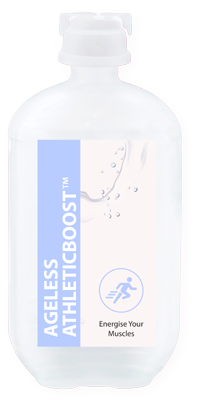 Disclaimer:
These products are not intended to diagnose, treat, cure or prevent any disease. The material on this website is provided for informational purposes only and is not medical advice. Always consult your physician before beginning any therapy program. All therapies are specific formulations prepared by AgeLess Clinic Pvt Ltd.