About US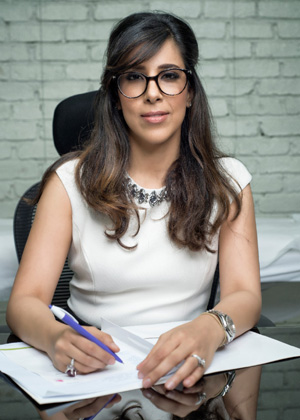 "Aesthetics is a beautiful harmony between art and medicine. The perfect blend of medical expertise, an artistic hand and a skilled practitioner is what truly brings exceptional results." – Dr. Harshna Bijlani, Medical Head – The AgeLess Clinic.
The AgeLess Clinic was established more than 12 years ago with the purpose of introducing the latest international aesthetic treatments to Mumbai, while keeping in mind the Indian skin and its myriad moods. When Dr. Harshna Bijlani, Medical Head - The AgeLess Clinic, returned from the UK in 2008, where she did several specialised cosmetic dermatology courses from the prestigious Harley Street, and gained immense clinical know-how and hands-on training with London's top celebrity doctor, she had a clear goal. She set up The Ageless Clinic in Mumbai with the aim to provide customised, state-of-the-art treatments using innovative international technologies from around the world combined with her personal holistic approach to skincare.
In a short span, The AgeLess Clinic has built a loyal, notable client list that boasts 80% of Mumbai's top celebrities, supermodels and thousands of happy, glowing faces across all ages.
Recognised by Vogue Magazine as the 'Skin Expert of the Year'—the industry's most esteemed award—and spotlighted as the #1 Ultherapy Treatment Provider in India, Dr Harshna Bijlani is a pioneer of innovative aesthetics and clinical beauty in the country.
With her immense knowledge, global perspective, expertise and insights in the field of aesthetic skin improvement, Dr Bijlani is often quoted and interviewed by leading publications including Vogue, Elle, Cosmopolitan, Harper's Bazaar and Femina to name a few. She has also been the judge for the ever-anticipated Vogue Beauty Awards and the 'Skin Expert' for the Vogue Wedding Show, both for more than 4 years.
The AgeLess Clinic ethos is simple, we want you to love your skin more!
You, first: Our priority is you. We want to listen to you, know your concerns and bring you satisfying solutions. There is an art to medicine as well as a science, and we will always ensure your experience at The Ageless Clinic is full of warmth and understanding - we hate frown lines.
Confidentiality: What happens at The Ageless Clinic, stays at The Ageless Clinic. We respect your privacy, and believe that your medical condition, treatments undertaken and test reports are your personal property. We will never disclose them.
Ethics: Our goal is to help you achieve your aesthetic and medical goals! For example, if there are two equal options of treatments, we will choose the more cost-effective one for you. We have no 'sales targets', instead we have a trained and dedicated team whose primary concern is your wellbeing and happiness.
High Benchmark: We pride ourselves in our global services—constantly bringing to you the best procedures and innovative technologies from the West and East.
Hygiene & Safety: Cleanliness is of utmost importance to us. We have 1 full time cleaning staff for every 500 sq ft to ensure that our clinics are spotless. We maintain high safety standards so you feel safe enough to enter our space and trust us.
Holistic Approach: We are not about quick fixes and temporary solutions. We try to look beyond the obvious and focus on identifying and treating the root cause of a problem, instead of simply treating the symptoms.
Recognition: Our favourite and most beloved award: a happy client! While it's always nice to receive recognition through prestigious awards (thank you Vogue and others!). The best testimony of a job well done is a satisfied client, and we are pleased to say, there are more than just a few.
OUR STATE-OF-ART CLINICS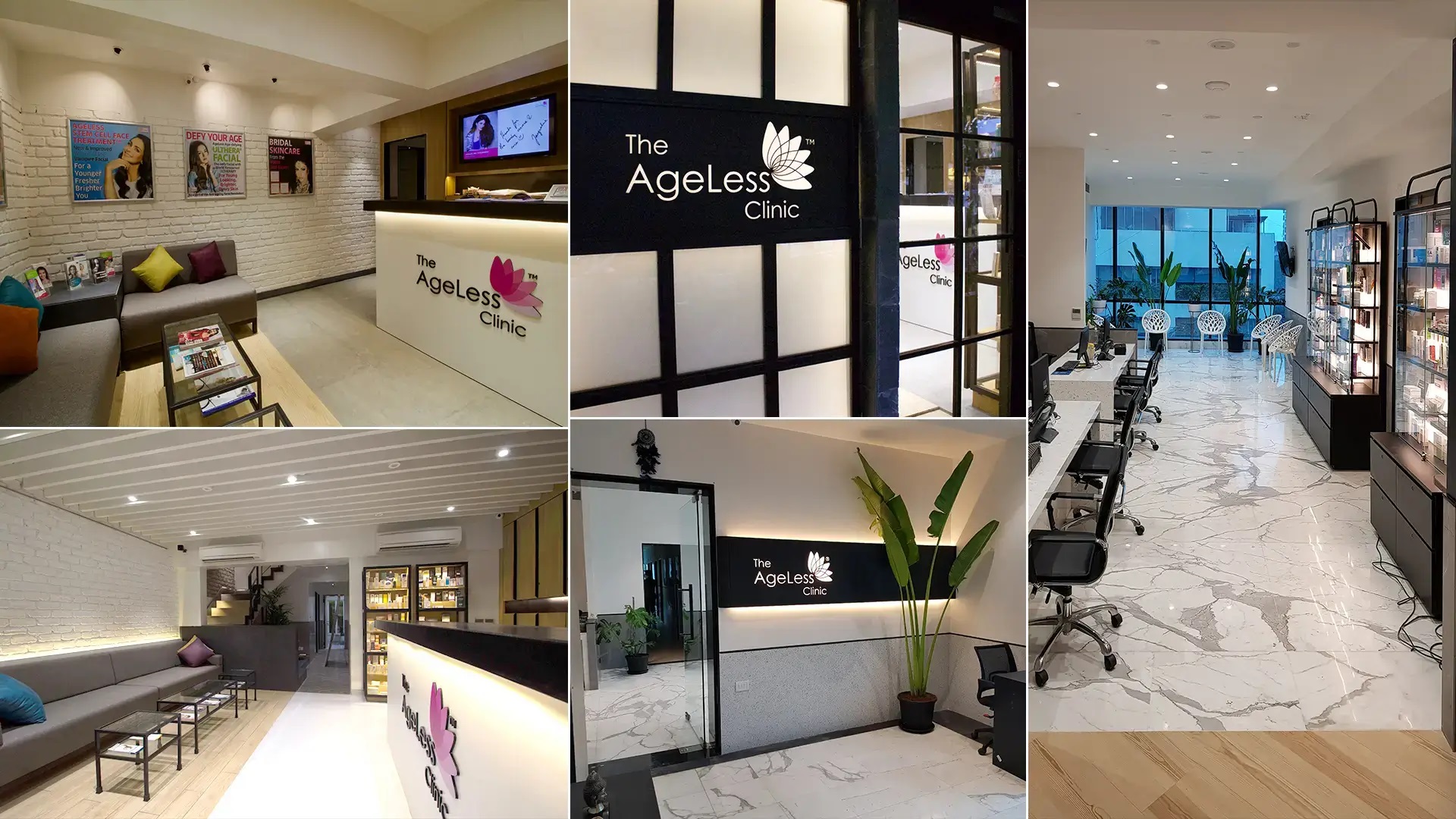 Welcome to The AgeLess Clinic—where science, technology and hospitality meet to provide you the best in Aesthetic Medicine. Mumbai's finest and biggest skin and body clinic, the AgeLess Clinic flagship clinic in Santacruz West, boasts over 4000 sq ft that includes 20+ spacious treatment rooms, housing innovative technologies and timeless techniques from across the world under one big roof!
Our state-of-the-art clinics are equipped with the best globally-renowned, technologically-advanced devices and amenities, a highly trained, skilled and extremely welcoming staff, and an entourage of expert doctors who aim to resolve your most pressing concerns related to skin, hair, weight and body. Together our goal is to help you love yourself more, because confidence is beautiful!