ABOUT US
---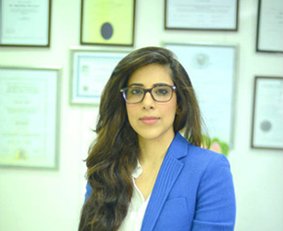 "Aesthetics is as much about art as it is about medicine. Medical skills alone do not ensure the best results for a patient. The perfect result is always a blend of an artistic hand and a skilled practitioner. " – Dr.Harshna Bijlani, Medical Head – The AgeLess Clinic.
The AgeLess Clinic was established 10 years ago with the purpose of introducing the latest international aesthetic treatments from the West to Mumbai. Dr Harshna Bijlani, Medical Head – The Ageless Clinic, set up The Ageless Clinic after returning from the UK in 2008, where she did several specialised cosmetic dermatology courses from the prestigious Harley Street, along with hands on training with London's top 'celebrity doctor.'
In a short period of time we have been able to build an enviable client list of over 80% of Mumbai's Top supermodels, numerous celebrities and thousands of satisfied clients. We have been recognized by Vogue Magazine as the "Skin Expert of the Year" – the industry's most prestigious award and have also won the award for #1 Ultherapy Treatment Provider in India. Dr.Harshna, Medical Head of The AgeLess Clinic is regularly interviewed and quoted in leading publications such as L'Officiel, Vogue and Femina to name a few. She has also been the judge for Vogue Beauty Awards and the "Skin Expert" for the Vogue Wedding Show, both for 3 consecutive years.
The AgeLess Clinic ethos is:
Patient Care: Our priority is you. There is an art to medicine as well as a science and we understand that warmth, sympathy and understanding are integral to patient care.
Confidentiality: Your medical condition, treatments undertaken and test reports are your personal property, we will not disclose these to any person
Ethics: We are concerned about helping you achieve your aesthetic and medical goals. When there are two options of equal treatments we will choose the more cost effective. We have no 'sales managers'.
High Benchmark: We benchmark our services to the Global best – bring in the latest technology and procedures from the West and East.
Hygiene & Safety: We have 1 full time cleaning staff for every 500Sqft to ensure that our clinics are spick and span, after all cleanliness is vital to maintain high safety standards in healthcare.
Holistic Approach: We try and look beyond the obvious and instead of just treating the symptoms we always strive to identify and treat the main cause as well.
Recognition: Awards alone are not a sign of good results, although they are always nice (thank you Vogue and others). The best testimony for a job well done is a happy client – and we are pleased to say that we have many.